A1 Widening - Denton Burn and South West Denton
What is happening
Highways England has a PLANNED scheme to widen the A1 to 3 lanes in both directions within the existing highway boundaries from Scotswood (at the river crossing near the B and Q Store) to the North.
Why use Stephen Nelson
As a LOCAL surveyor I already have a large number of residents in
Wood Grove
Turret Road
Wharmlands Road
The Forum
Melrose Close
Southway
Birchfield Gardens
The Ramparts
Acton Road
signed up since it was first proposed in 2000 – now it is at the PLANNED stage to commence work in 2019.
Who is affected ?
If you are an owner occupier you can make a claim if you live close to the A1 and consider your property may be affected by increased
noise,
vibration
artificial lighting
due to the road widening
How Much will it cost ?
There are no costs for registering your interest
Highways England pay for claimants' costs on a successful claim
If you are unsuccessful you will still not be responsible for any fees
What do I need to do next ?
Simply complete your details using the link and we will handle everything from here.  Alternatively use the phone number at the top of the page to contact us.
What happens next ?
We will acknowledge your interest in having us represent you and will keep you advised as the scheme progresses.  There may be little or no progress for a period of time but we will be constantly monitor what is happening with your scheme.  There is nothing more that you need to do.
More information
Highways England are planning to hold exhibitions in 2017 (following 2 in 2016) .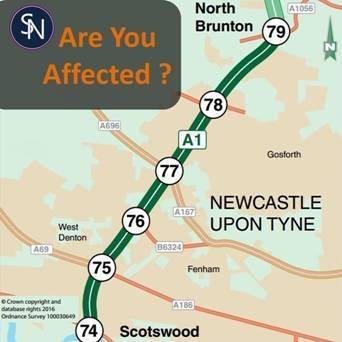 Further details are available on the Highways England Site available here